Skyrim:Runil
The UESPWiki – Your source for The Elder Scrolls since 1995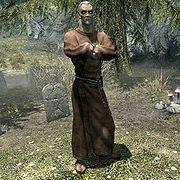 Runil is an Altmer priest of Arkay, and the keeper of Falkreath's Hall of the Dead. His assistant, Kust, attends the graves. He performs burial rites and maintains Falkreath's famously large graveyard. In his youth, he was an Aldmeri battlemage and feels tremendous guilt for those that he has killed. He keeps a journal of his many regrets, but lost it while exploring a cave.
In his journal he mentions that he must keep a "low profile" from the Thalmor in Skyrim, and he also gives a hint to why he fears the Thalmor in his journal, "I have heard that they [the Thalmor] and their agents are abroad in Skyrim, rooting out worshippers of Talos. I must be sure to keep a low profile."
He wears monk robes and a pair of boots. He is equipped with an iron dagger, and carries a key to the Hall of the Dead, as well as a selection of lower class loot and gold.
[edit]
Related Quests
Runil's journal relays that he had a prophetic dream of the return of dragons and the Dovahkiin.
His journal also seems to suggest that Runil is an Aldmeri deserter.