Skyrim:The White Phial (quest)
The UESPWiki – Your source for The Elder Scrolls since 1995
This page is currently being rewritten as part of the Skyrim Quest Redesign Project.
The page is being rewritten and checked in several stages. All users are welcome to make changes to the page. If you make a change that is relevant to the project, please update this template accordingly, and make sure you have observed the project guidelines.

[edit]
Quick Walkthrough
Retrieve the White Phial from Forsaken Cave.
Return the Phial to Nurelion.
Talk to his assistant, Quintus Navale, for your final reward.
[edit]
Detailed Walkthrough
[edit]
His Last Hope
Talk to Nurelion in his apothecary shop, The White Phial, in Windhelm. He will explain that he is in the last stages of a fatal illness but that he has tracked down a legendary artifact that may be able to save him. The White Phial has been his life's obsession, to the extent that he even named his store after it, and now he believes that only the phial can save him. Nurelion's research has uncovered the current location of the phial: it lies inside Forsaken Cave. He gives you a special mixture that he believes is necessary to obtain the phial.
[edit]
The Forsaken
Forsaken Cave isn't far from Windhelm. Head west from the city and follow the valley and you will come to the cave before long. Unfortunately, the cave is filled with Draugr, so be on your guard. Before the final room with a cauldron, there are two sets of stairs leading to a chest. On the staircase to the right there is a Word Wall. Fight your way through to a room with an empty cauldron. Pour Nurelion's potion into the cauldron to activate it. Now it will display as being filled with a bubbling green liquid and a stone door will open to reveal a hidden room that contains the phial. Take it, and head back to Nurelion in Windhelm.
[edit]
The Crack in the Plan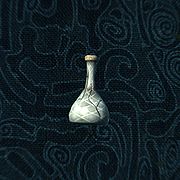 Unfortunately the phial is cracked, meaning it will no longer work. Nurelion will be furious and blame you for its state, before giving you a derisory five septims and dejectedly going to bed. Talk to his assistant, Quintus Navale, who will be more sympathetic. If you choose either dialogue option, he will hand you an additional 500 septims as a more appropriate reward. If you manage to talk with Quintus before he talks with you he will award you 500 septims, and then speak with you again immediately afterwards resulting in an additional 500 septims.
After you have completed the quest, Nurelion will then go to his bed and cannot be woken up, as he is "asleep and dying".
All is not yet lost for Nurelion, however, as his assistant refuses to give up hope.
At the completion of the quest, even when "asleep and dying" on his bed, you can still hear Nurelion continuing his standard dialog about not liking loiterers and those who gawk at his goods. This occurs when you are standing in the shop downstairs and you can hear him going on about it (though faintly, since his bed is upstairs a moderate distance away).
The Phial can disappear if player leaves dungeon without taking it.
It is possible to receive double the amount that Quintus gives you as a reward from 500 to 1000 septims. Often when the player finishes the initial dialogue with Nurelion too quickly (without exiting during middle of the dialogue), he will repeat the same dialogue if the player does not exit the second dialogue, which would result in a duplication of the 500 septims rewarded. ?
[edit]
Quest Stages
The White Phial (MS12)
Stage
Finishes Quest
Journal Entry
0
10
The alchemist of Windhelm, Nurelion, has asked me to find the legendary White Phial for him.


(Objective is assigned): Retrieve the White Phial

20
(Objective is assigned): Bring the Phial to Nurelion
21
(Objective is assigned): Speak to Quintus
100
I retrieved the White Phial for Nurelion, but it was damaged beyond repair. His assistant, Quintus, still paid me my reward, though.