Skyrim:The White Phial (place)
The UESPWiki – Your source for The Elder Scrolls since 1995
This article is being developed as part of the Skyrim Houses Redesign Project. If you see this tag it means the article can still be improved. Please see the project page for guidelines.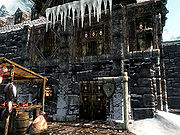 The White Phial is an alchemical shop located in Windhelm's market district.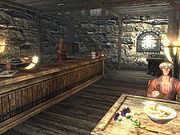 Its owner is Nurelion who named the shop after the legendary artifact he's spent many years searching for. When Nurelion is not available, the shop duties are handled by his assistant, Quintus Navale.
[edit]
Related Quests
NOTE:
Some radiant quests have a sizeable list of possible locations. These quests are not placed on individual place pages, and are instead listed at
radiant quest locations
.
[edit]
Displayed Merchandise
The following items are sitting out in the store, for example on the store counters. They can be purchased from the merchant, or else can be stolen. Other items may also be present in the store, but those other items are not available for purchase. They respawn after ten days.
[edit]
Standard Merchandise
This is the merchandise found in the White Phial's merchant chest. These items are only available if purchased from the merchant; they cannot be pickpocketed or stolen. They are restocked every two days.
A copy of the Illusion skill book The Black Arts On Trial can be found behind the counter.
Nurelion can still be heard yelling at you for loitering in his store even when no interaction with him is possible.
There is a "Loot" shadowmark to the right of the store's sign. There are several alchemical ingredients, potions, and poisons found around the store.