Skyrim:Valga Vinicia
The UESPWiki – Your source for The Elder Scrolls since 1995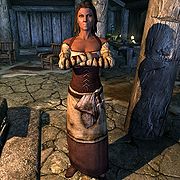 Valga Vinicia is an Imperial and publican of the Dead Man's Drink in Falkreath. She has 100 gold available to barter with and buys food.
When you talk to her she will greet you with "Welcome to Dead Man's Drink." and talking to her further will cause her to reveal some details about her rather eventful life with comments such as "I escaped fighting in Cyrodiil only to have it track me down again in Skyrim." and "In Falkreath if I don't know it, it's not worth knowing."
Asking her about the subject will cause her to point you in the direction of the College of Winterhold with the remark that "The people of Skyrim don't like magic much, so about the only place you're likely to find a teacher is the College of Winterhold."
She wears a set of barkeep clothes and a pair of shoes. She is equipped with an iron dagger, and carries a key to the inn as well as a selection of common loot and gold.