Oblivion:Telaendril
The UESPWiki – Your source for The Elder Scrolls since 1995
This page is currently being rewritten as part of the Oblivion NPC Redesign Project.
The page is being rewritten and checked in several stages. If you make an addition to this page, please update this template accordingly, but make sure you have observed the project guidelines.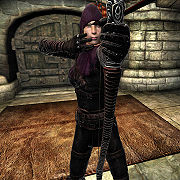 Telaendril is a Bosmer member of the Dark Brotherhood, living at their Sanctuary in Cheydinhal.
Telaendril seems to have been following Ocheeva's instructions to scout in different locations and due to this she will spend all the time traveling back and forth to the Sanctuary. While she's at the Sanctuary on Morndas, Middas and Fredas, she will wander around the Sanctuary Hall from 12am to 6am, when she will head to Training Room to practice her skills with the bow. After having finished her training, she will head to the Living Quarters to have a three-hour meal until her bedtime. After she has rested for a moment, she will wake up at 8pm to have her second meal of the day, this time for a period of five hours.
At 1am, on Tirdas, she will leave the Sanctuary to depart towards the Cheydinhal Bridge Inn, where she will spend the entire day on the floor upstairs eating until 12am, when she will return to the Sanctuary. On Turdas she will leave the Sanctuary at 1am again, this time to locate near the well of the local Mages Guild, always strolling around it. And on Loredas she will depart to the city of Leyawiin through the east gate, taking the Blue Road first until she finds the Red Ring Road and turning at the first intersection to take the Yellow Road. Once she has arrived she will spend the next two days scouting around the Castle grounds, until she returns to Cheydinhal on Sundas at 12am.
While she is at the Sanctuary she will wear the Dark Brotherhood's shrouded armor and hood. She also carries her second outfit with her: a brown shirt, a pair of light brown linens and pigskin shoes. She also possesses a steel bow, a leveled amount of steel arrows, a potion of sorcery, a few pieces of venison, the key to the abandoned house, her personal key and a leveled amount of gold. Telaendril knows a Chameleon spell and also possesses an ability which gives her resist magic and normal weapons 20%.
When you first meet her, she will happily welcome you to their Sanctuary in a formal mode:"Warmest welcomes to you. I am Telaendril. Wood Elf and loyal daughter of Sithis. I hope you find our Sanctuary to your liking." However, if you attempt to talk to her while outside the Sanctuary, she will dismiss you by saying:"Not here! Not in public! We must never speak to each other outside the Sanctuary! The risk of detection is too great!". She seems to be in the urge to tell someone a rumor about her guild member Gogron gro-Bolmog, and if you ask her she just won't resist to tell it:"Oh, I shouldn't...well all right. Gogron had a pet rabbit as a child! He petted the thing so hard he crushed its skull! Ha ha ha! What a brute!"
She was originally a target for the Dark Brotherhood, and when you ask her about the assassin hired to kill her, she will explain you how she was able to join the Guild:"Actually, Lucien did not try to recruit me. Not at first. He tried to kill me. My father wanted me dead, and he hired the Dark Brotherhood to do it. I escaped from Lucien, and paid my father back for his treachery. Lucien came to me again that night with an offer I just couldn't refuse."
She can give you some tips and advices to help you during your contracts if you ask her:
[edit]
Related Quests
Although Telaendril's note to Ocheeva states that she will watch over the Sanctuary well on Turdas, she is actually set to watch over the Cheydinhal Mages Guild well instead.