Skyrim:Daighre
The UESPWiki – Your source for The Elder Scrolls since 1995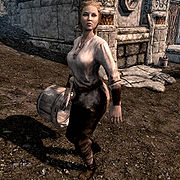 Daighre is a Breton miner living in Left Hand Mine, just outside Markarth. She is the mother of Erith.
She seems to believe that she is better than most men and she will soon tell the player that "I'm the hardest worker in Left Hand. Better than any man." She also seems to love her daughter quite a lot and she will also remark that "Most women would rather die than dig, but I have a daughter to raise."
It also seems that her husband died many years ago. The only reference that she makes to this is that "My Erith has her father's eyes. She's all I have left of him."
When the Forsworn attack her friends she will feel very sorry for them and remark "Poor Pavo and Gat. To have lived through a Forsworn attack." She will also tell the player "Another day, another settlement gets attacked. No place in the Reach is safe from the Forsworn."
Daighre wears a set of miner's clothes and a pair of boots. Like most miners, she is equipped with a pickaxe, and carries a key to her house, as well as a selection of common loot and gold.