Skyrim:Gisli
The UESPWiki – Your source for The Elder Scrolls since 1995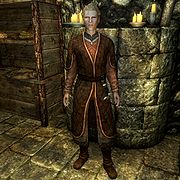 Gisli is a Nord ranger living in Solitude. She is the sister of Solitude Thane Erikur. She offers unique dialogue about her bitterness, or jealousy, of her brother's status. She has a set of fine clothes and fine boots. She can be found spending her nights at The Winking Skeever. During the day, she visits several shops of Solitude and generally stands behind the counters in place of the owner, even when she doesn't offer any services. She cannot be killed.
Gísli is a Norse name in the real world; however, it is a man's name.
[edit]
Related Quests
NOTE:
Some radiant quests have a nearly unlimited list of possible quest targets, or can be randomly initiated by nearly any NPC in the game. These quests are not placed on individual NPC pages, and are instead listed at
radiant quest NPCs
.