Skyrim:Haafingar Stormcloak Camp
The UESPWiki – Your source for The Elder Scrolls since 1995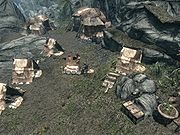 Haafingar Stormcloak Camp is a small Stormcloak camp overlooking the Karth River. It is located southwest of Solitude, almost directly south of the Statue to Meridia.
Stormcloak soldiers are camped here under the command of Istar Cairn-Breaker. They are only hostile if the player has joined the Imperial Legion. The Stormcloak quartermaster, usually found near the workbench, will buy and sell weapons, armor and ingots. Two horses can be found here; however, they are owned and mounting them is considered theft.
The following amenities can be found at the camp: a wood chopping block, a workbench, a grindstone, an anvil, an alchemy lab, and a cooking pot. Next to the alchemy lab is a chest that contains mediocre loot.
The first large tent houses up to three wounded Stormcloak soldiers, depending on casualties taken during previous siege quests, and has two buckets on the floor and some bloody rags on the small table. The large tent containing the strategic map of Skyrim also contains a dresser and, during the related quests, Galmar Stone-Fist. The slightly smaller tent is where Istar Cairn-Breaker sleeps, and also contains an end table and a chest. There are five one-man tents that the player can sleep in after joining the Stormcloaks, if no one else is using it at the time.
[edit]
Related Quests