Skyrim:Harrald
The UESPWiki – Your source for The Elder Scrolls since 1995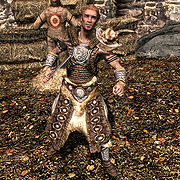 Harrald, a Nord warrior, is the son of Jarl Laila Law-Giver and brother to Saerlund. He lives in Mistveil Keep in Riften.
Harrald wears a set of scaled horn armor with matching pairs of bracers and boots. He is equipped with a leveled dagger which can be up to Elven quality, and carries a selection of upper-class loot and gold.
Unlike his brother, Saerlund, he is a staunch Stormcloak supporter and is unafraid to show it; because Saerlund spoke out in favor of the Empire, Harrald disowned him as his brother and shows hostility towards him. Harrald has gone as far as admitting that if he was jarl, he would have had Saerlund executed for treason.
Harrald is also known to be very arrogant and dislike some outside visitors to Mistveil Keep. He even goes to the point of asking you to retrieve his sword from the local blacksmith, Balimund, who assures you that Harrald is too full of himself to get the sword.
[edit]
Related Quests
Despite being labeled as a Stormcloak supporter, if Riften is under the control of the Imperial Legion, he will not leave.

This bug is fixed by version 1.2 of the Unofficial Skyrim Patch.
However, his dialogue does not change. Even if Riften is in Imperial control, he will still give the same dialogue, e.g.: "If my brother Saerlund had his way, we'd be flying Imperial colors by now."