Skyrim:Anuriel
The UESPWiki – Your source for The Elder Scrolls since 1995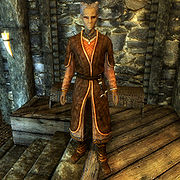 Anuriel is a Bosmer and the steward to Jarl Laila Law-Giver of Riften. She is usually found at the Jarl's side in Mistveil Keep. She is the girlfriend of Unmid Snow-Shod, and you can overhear a conversation between the two about sneaking out for a "training" session.
Once the Jarl grants you permission, she can sell you a house called Honeyside in the city for 8,000 gold. In order to get permission you must complete Supply and Demand.
Anuriel wears a set of fine clothes and a pair of fine boots. She is equipped with a leveled dagger which can be up to Elven quality, and carries a selection of upper-class loot and gold.
[edit]
Related Quests
NOTE:
Some radiant quests have a nearly unlimited list of possible quest targets, or can be randomly initiated by nearly any NPC in the game. These quests are not placed on individual NPC pages, and are instead listed at
radiant quest NPCs
.
Anuriel is a member of the monk class, which determines the level of her skills.
If any quests started by Anuriel have not been completed after finishing the civil war quests on the Imperial side, the quests can still be completed but will require you to speak with her in exile at the Palace of the Kings.