Skyrim:Indaryn
The UESPWiki – Your source for The Elder Scrolls since 1995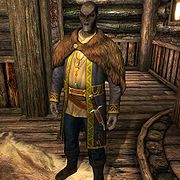 Indaryn is a Dunmer warrior that Maven Black-Briar has appointed to run the Black-Briar Meadery.
Indaryn is very unhappy with his employees and he may discuss this with Keerava in The Bee and Barb:
Indaryn: "Why don't they listen to me, Keerava? Why won't they do as I say?"
Keerava: "Maybe they're afraid of you. Maybe it's your breath. How should I know?"
Indaryn: "They always try to take advantage of me. Give them an inch and they'll take a mile."
Keerava: "I'll tell you one thing, if you don't make peace with them soon you may get a walkout on your hands. Then we're both in trouble."
Indaryn also realizes some recent thefts in his meadery and tries to confront Romlyn Dreth:
Indaryn: "Romlyn, I've been meaning to speak to you. I did a count at the meadery and we're four cases short... again."
Romlyn Dreth: "What are you saying? You think I had something to do with that?"
Indaryn: "I'm not accusing you of anything. Yet."
Romlyn Dreth: "The Dreth family doesn't steal, Indaryn."
Indaryn: "For your sake, I hope you're right. Because if it is you, and Maven finds out, the Dreth family is going to be one member smaller."
During the quest Under the Table, you can turn in Romlyn to him, he will thank you and give you some leveled gems.
Indaryn wears a set of fine clothes and a pair of fine boots. He is equipped with a leveled dagger which can be up to elven quality, and carries a key to the meadery, as well as a selection of common loot and gold.
[edit]
Related Quests