Skyrim:Jaree-Ra
The UESPWiki – Your source for The Elder Scrolls since 1995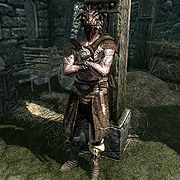 Jaree-Ra is an Argonian rogue residing in Solitude. He hangs out around the shops, and will call out to you as you pass by, saying "You look new. I'm new, too. I think we could be friends." He will then go on to say "If you're looking for opportunities to make some coin, well... I'm your man." He has a sister, Deeja, who is also in Solitude.
If you ask him further about the type of job he has in mind he will speak coyly and tell you that "With the war, many more ships come through these docks. Loaded with weapons and pay, but few people. And they pass through dangerous waters. We have an interest in one of those boats, the Icerunner."
He will then elaborate further on his plan and say "The Solitude Lighthouse will be guiding it in... but if its fire were to go out, the Icerunner would run aground." Asking him directly about the plan will prompt him to respond with "What an interesting idea. I think if someone were to do something like that, there would definitely be a certain amount of loot to be shared... Yes, if someone were to put out the Lighthouse fire and then meet me on the docks afterwards... I could certainly direct them to that loot."
If you threaten to turn him into the guards he will remain calm and quickly respond with "Turn me in? For what? What crime's been committed? I'm just making idle talk about what would most undoubtedly be a tragic event...", before adding "A tragic, and very, very profitable event."
Once you agree to his scheme he will send you off on your task. As soon as you report your success he will coldly tell you that "The effects have already been felt. The Icerunner has failed to dock on time. Without the Lighthouse, the Icerunner will have swung wide of the western shoal and run aground on the eastern coast." He will then reveal the next part of his plan by saying that "My sister Deeja will be at the wreck with our Blackblood Marauders. She knows to expect you."
If you ask Jaree-Ra about the fate of the guards he will suspiciously remark: "Don't worry about them. We'll make sure they wash up safe. Maybe they'll even pay us for the heroic rescue from their sad crash."
Jaree-Ra wears hide armor and hide boots, and carries an iron dagger and some rich items and gold.
Upon first meeting him, he will try to recruit you to help him out on a little project. He promises you a hefty reward if you can put out the Solitude Lighthouse fire, and so cause a merchant ship to run aground. However, the Argonian is lying and intends to have his sister and their gang of bandits kill you when you attempt to collect your share of the loot.
[edit]
Related Quests
Once you confront Jaree-Ra for the second time he will be completely shocked that you escaped and he will angrily say "First you murder my sister, then you massacre my men!"
Jaree-Ra will become hostile without warning should you interfere with Roggvir's execution taking place as you first enter Solitude. He will also become hostile if you are avoiding arrest in Solitude. He will also become the only NPC hostile to you if you slay an invading vampire with Dawnbreaker, and the non-damaging explosion touches him or any of the NPCs in Solitude. This can be fixed by gaining a bounty in Solitude and paying it off.