Skyrim:Jiub
The UESPWiki – Your source for The Elder Scrolls since 1995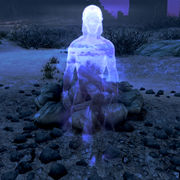 Jiub is a Dunmer scout, and the first NPC the player meets in Morrowind. He prefers his long title, Saint Jiub the Eradicator of the Winged Menace, which he received after he eradicated Cliff Racers from Vvardenfell. He has no idea that he died during the Oblivion Crisis or that he has been gone for more than two hundred years. He searches the Soul Cairn for the pages of his Opus, a book in a line of 26 volumes.
He wears a pair of ragged trousers and carries a steel dagger.
To find him, stand in the gap by the wall dividing Soul Cairn. Enter the side with the Boneyard and immediately head east. Follow the trail of soul pits until you come to a large soul pit with some loot and page 5 of Jiub's Opus. Jiub will be nearby, sitting at a campfire.
If pressed for information on how he came to be in the Soul Cairn, Jiub will reveal that he was soul trapped and killed by a Dremora during the siege of Kvatch.
[edit]
Related Quests
[edit]
Dialogue
"Now what was it I said to that prisoner? "Stand up, there you go. You were dreaming..." Yes, that was it."
"Did I start with my ride on the prison ship, or was it before that?"
"Was it "Between forces of good and evil."? No, no...that's not it..."
"Was it "Having the adoration of thousands..." No, wait. I could make it "the adoration of tens of thousands."
"I wonder how many copies I'll sell? Hundreds? Thousands? I'll hire the finest bookbinder I can find."
"And without any regard for my safety, I fearlessly charged the enemy!" No, much too dramatic..."
"When I rewrite those pages...they'll see what they missed."
"Damn it. How could I be so foolish."
"Savior of Morrowind." Hm, that's good but it sounds too narrow of scope..."
"I can't believe I lost those pages."
"Hm, Did I call it "The Great Hunt" or was it just "The Hunt?" Bah, I can't remember!"
"I miss my homeland, but I can't say that I miss all the noise!"