Skyrim:Scouts-Many-Marshes
The UESPWiki – Your source for The Elder Scrolls since 1995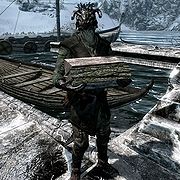 Scouts-Many-Marshes is an Argonian dock worker in Windhelm. He and his clansmen reside within the Argonian Assemblage and can be seen working around the Windhelm docks. He offers common level Light Armor training. After completing a task for him, it is possible to marry Scouts-Many-Marshes.
Ask how long Scouts-Many-Marshes has lived in Windhelm and he will reply, "I came here as a hatchling. The only thing colder than Skyrim is the Nords themselves, but we stick together." Inquiring as to why all of the dock workers are Argonian results in a somewhat triumphant reply: "We work where we can get work. The Nords don't like unloading their ships, so we do it instead. Sometimes cargo goes missing."
If you complete the Battle for Windhelm and Ulfric Stormcloak is dead, you can ask Scouts-Many-Marshes if he's glad to see Ulfric gone. He'll respond, "You have no idea. Did you know it was his decree that forbade the Argonians from living inside the city walls? I hope in his next life, he's reborn as an Argonian forced to live in a slum because of some bigoted Nord dictator. I'm joking, of course, but I'm a lot happier seeing the Empire running things in Windhelm."
[edit]
Related Quests
Scouts-Many-Marshes is a member of the blacksmith class, which determines the level of his skills.
The radiant AI system may prevent the player from being able to get the objective that raises Scouts-Many-Marshes' disposition to marriage level. As such, some players may not be able to marry this character. ?