Skyrim:Serpent's Bluff Redoubt
The UESPWiki – Your source for The Elder Scrolls since 1995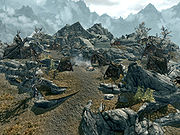 Serpent's Bluff Redoubt is a small Forsworn camp and ruin near Rorikstead.
The redoubt is situated atop a steep incline leading southwest from Rorikstead. The redoubt has an exterior and one interior zone: Serpent's Bluff Ruins. The exterior campsite and the ruins are mainly inhabited by Forsworn, while their hagraven matriarch resides within the ruins.
[edit]
Related Quests
Note: This location is one of many potential targets for one or more of the radiant quests found on this page.
[edit]
Walkthrough
[edit] Exterior: Serpent's Bluff Redoubt
The campsite is guarded by numerous Forsworn, including a Forsworn Briarheart. The first part of the camp has three tents with bed rolls with a campfire in the middle. To the right side are two more tents, with a forge and an anvil between them. One tent contains an apprentice-locked chest with a knapsack propped up against it, and a tanning rack just outside. The other tent has a table with two pieces of leveled two-handed weapons and a leveled heavy helmet, as well as a workbench just beside it. Proceeding further into the campsite, you will eventually find the tent where the Briarheart sleeps in; this tent contains a boss-level chest. Further up is the entrance to Serpent's Bluff Ruins.
[edit] Zone 1: Serpent's Bluff Ruins
There are six enemies (including a hagraven boss) and many traps inside this small area. The exit door is unlocked by activating a small weight sensitive plate on the large table on the main floor below the podium. You will need to activate the weight sensitive plate by dropping an item onto it as the door only remains open as long as the plate is activated; one of the otherwise useless items on the table can be used for this. A copy of the Enchanting skill book Twin Secrets can be found on the arcane enchanter at the end of the dungeon.
Under the podium, to your left after you descend the stairs, is a small, locked room containing an apprentice-locked chest.
Since there isn't any way to control precisely where you drop an object and moving objects in Skyrim is tremendously difficult, activating the pressure plate may prove quite challenging.

On the table is a dinner plate that slides freely and may be moved by walking behind it. Sliding it to touch the pressure point will open the gate. The dinner plate can actually not be touching the pressure point by a small space and the gate will still open.
You can walk on the plate and then use Slow Time to go past the door.

On a table is a map of the province of Skyrim, pierced by a dagger at Markarth. This alludes to the Forsworn's goal to reclaim the city, which (along with all of the Reach) they previously controlled for a brief time.
An iron ore vein can be found north-northwest of camp, right next to the rock underneath the camp fortifications.