Skyrim:Cosnach
The UESPWiki – Your source for The Elder Scrolls since 1995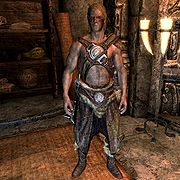 Cosnach is a drunken Breton warrior who is frequently found at the bar in the Silver-Blood Inn. He was a porter for the Arnleif and Sons Trading Company, which can be found directly across the path from the Silver-Blood Inn. He is a cousin of Imedhnain, who works as the shop assistant there. He informs you that the reason for his current unemployment is the multiple Forsworn raids on supply caravans, hurting business.
You can offer him an alcoholic beverage for which he will be grateful. If you accept his offer of a brawl and win, he will become an available follower and can be recruited for the Blades. He also becomes a potential marriage partner.
Cosnach wears a set of hide armor and a matching pair of boots. He is equipped with an iron mace, and carries a key to his room as well as a selection of lower-class loot and gold.
If you ask him where he works, he will reply, "Arnleif and Sons Trading Company. I'm a porter. Just some muscle hired to move heavy packages. But we don't get any shipments in. Forsworn attack every caravan. So all I do is sit here and drink."
[edit]
Related Quests
Although his default gear is governed by the Light Armor skill, Cosnach is actually more proficient in Heavy Armor.