Skyrim:Falkreath Stormcloak Camp
The UESPWiki – Your source for The Elder Scrolls since 1995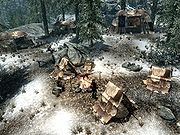 Falkreath Stormcloak Camp is a Stormcloak camp located in the mountains of Falkreath Hold, east of Helgen.
The camp itself can not be seen from the road, but one can see the soldiers' horses from it.
The camp consists of six tents: three small and three large. The three small tents stand around a campfire and hold hay piles for the six soldiers stationed at the camp to sleep on, but you may use them as well if you are aligned with the Stormcloaks. One large tent is for three wounded soldiers, another for the camp's leader Thorygg Sun-Killer with a regular unowned treasure chest inside, and the last is for planning, as it has a map of Skyrim in it. In front of Thorygg's tent is a quartermaster who will trade in weapons and armor, a workbench, and a grindstone for upgrading weapons and armor. There is an alchemy lab just outside the medical tent. A charred skeever is sitting above the fireplace.
Two soldiers patrol around the camp, mainly a blind spot to the east that can not be viewed from the camp itself.
[edit]
Related Quests
The camp is initially disabled, but gets enabled after being sent to Whiterun during Before the Storm. Certain (?) civil war quests enable this location too.
One silver ore vein is located 340 ft east-northeast of the camp, up the hill just past the cave.