Skyrim:Laelette the Vampire
The UESPWiki – Your source for The Elder Scrolls since 1995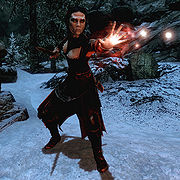 Laelette was a Breton residing in Morthal who was married to Thonnir and had a son named Virkmund. When Alva moved to Morthal she befriended and later turned Laelette into a vampire and kept her as her handmaiden. To cover up her disappearance, rumors were spread that she had left to join the Stormcloaks.
Under orders from Alva, Laelette was told to kill Hroggar's family and make it look like an accident, however she decided to burn Hroggar's family alive instead. Laelette had become obsessed with Hroggar's daughter Helgi and had tried to turn her, unfortunately she killed the child and left the body to burn. Night after night Laelette visits the grave of Helgi, still trying to bring her back to be her companion.
[edit]
Related Quests
Laid to Rest: Investigate a tragic house fire, and discover an insidious plot against the town.