Skyrim:Hroggar
The UESPWiki – Your source for The Elder Scrolls since 1995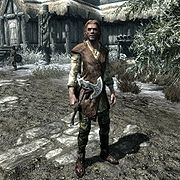 Hroggar is a Nord lumberjack currently enthralled by Alva, a vampire. Hroggar lives in Alva's house and will turn hostile should you enter while he's there. As you will learn from the townsfolk, Hroggar's wife and daughter recently perished when their house caught fire. Hroggar moved in with Alva the next day, raising suspicions. You will be tasked by Jarl Idgrod Ravencrone to investigate the matter during the related quest.
Should Hroggar survive the quest, he will attempt to return to a normal life. He will pay you to bring him lumber.
He wears a set of farm clothes and a pair of boots. He is equipped with a steel war axe, and carries a key to Alva's house, as well as a selection of common loot and gold.
[edit]
Related Quests
Laid to Rest: Investigate a tragic house fire, and discover an insidious plot against the town.
If Hroggar should happen to die before Laid to Rest begins, this will not prevent the quest from triggering and proceeding as normal.