Skyrim:Alva
The UESPWiki – Your source for The Elder Scrolls since 1995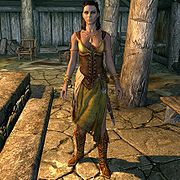 Alva is a Nord vampire sent by Movarth to Morthal to transform some of the townsfolk into vampires while using the rest as cattle. Despite her nefarious intentions, attacking her results in a bounty.
During the day she will be in the basement of her house sleeping in a coffin while Hroggar, her new thrall, will be guarding the house, though sometimes she will be at the lumber mill or at the inn. Alva will leave her house only at night and wander around, most likely looking for people to turn as she did with one of the residents who ended up burning down a house which the player has to investigate in Laid to Rest.
She wears a set of tavern clothes and a pair of boots, and is equipped with a steel dagger. She carries a key to her house, a small chance of up to four leveled soul gems, and a significant amount of leveled gold, ranging from 50 to 250 gold.
[edit]
Related Quests
Laid to Rest: Investigate a tragic house fire, and discover an insidious plot against the town.
If Alva is not killed before raiding Movarth's Lair, she will be found there, fighting against other vampires, and will not be hostile to the player.
If Alva is not killed in Movarth's Lair at the end of Laid to Rest, she will be found back in Morthal a few days later.
Alva is one of the few NPCs to recognize the player as a vampire regardless of the stage of vampirism and will make comments about the town being hers.
Alva is not actually a vampire by race, and her race is instead that of a normal Nord. This means that spells that only work on undead will fail against her, and her eyes will not glow with Dawnguard installed.