Skyrim:Idgrod Ravencrone
The UESPWiki – Your source for The Elder Scrolls since 1995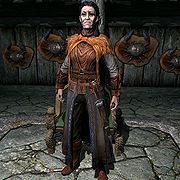 Idgrod Ravencrone is an elderly Nord mystic. She is the Jarl of Morthal, and is heavily protected by her personal bodyguard Gorm, due to people treating her "differently." She also runs the administration with her husband, Aslfur, who serves as her steward. She is also mother to Idgrod the Younger and Joric.
When the player enters Morthal the first time, he or she will immediately see that the townsfolk are angrily complaining that Ravencrone is not fulfilling her duties as Jarl, most referring to the return of the dragons and the ongoing civil war, as well as their skeptical view of her leadership. According to the townsfolk, Gorm, and Ravencrone herself, she is "gifted" with the ability to see visions granted to her from the Nine, and seems to rely on her visions more than the opinions of her people, as evidenced when she is asked about her stance in the war.
Although Ravencrone is unwilling to reveal with whom she is allied in the civil war (she insists she supports "herself and Morthal"), it is clear that she is an Imperial supporter; if by any chance Morthal is under control of the Stormcloaks, she will be replaced by Sorli the Builder.
She wears a fur-trimmed cloak, a pair of pleated shoes, and a pair of fine armguards. She is equipped with a steel dagger and also carries a selection of common loot and gold.
[edit]
Related Quests
Ravencrone will begin permanently following another Morthal resident as a result of the quest Falion's Secret.
She makes a brief appearance in Diplomatic Immunity as a party guest to the Thalmor embassy. If the player befriends her prior to the quest, she can assist the player in creating a distraction required to continue the quest.
She is supposed to have a sister named Argi Farseer residing in Stonehills, but this was not implemented in the final game.
If the player is a Fourth Stage Vampire she will not attack