Skyrim:Highmoon Hall
The UESPWiki – Your source for The Elder Scrolls since 1995
This article is being developed as part of the Skyrim Houses Redesign Project. If you see this tag it means the article can still be improved. Please see the project page for guidelines.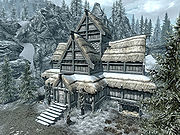 Highmoon Hall is the residence of Idgrod Ravencrone, the Jarl of Hjaalmarch.
[edit]
NPCs Living Here
† If the Stormcloaks take over Hjaalmarch, Pactur was supposed to move with Sorli and act as steward judging from his dialogue and faction. However, due to an oversight, she will only bring Teeba-Ei to Morthal, while Pactur stays in Stonehills.
* Though it is suggested that Falion is Morthal's new Court Wizard, he is simply an ordinary wizard trying to make a living within his shop.
[edit]
Related Quests
As you approach the door to Highmoon Hall for the first time, you may overhear a conversation between some of the residents of Morthal and Aslfur, one of the Jarl's advisors. The locals are concerned about ongoing trouble; further conversations will indicate some specific complaints: a house was lost in a fire, noises are heard from the surrounding swamp at night, and the presence of a mage in town—on top of the apparent hands-off approach of the current Jarl.