Skyrim:Sleeping Giant Inn
The UESPWiki – Your source for The Elder Scrolls since 1995
This article is being developed as part of the Skyrim Houses Redesign Project. If you see this tag it means the article can still be improved. Please see the project page for guidelines.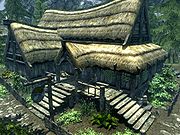 The Sleeping Giant Inn is a small inn and tavern in the town of Riverwood.
Orgnar is the main innkeeper, selling food as well as several alchemy ingredients, which can be used at the alchemy lab in the corner by the door. Rooms are normally rented from Delphine. However, when Delphine is on travel elsewhere, Orgnar will rent you a room, even though his dialogue still tells you to talk to Delphine.
Delphine uses the inn as a small safehouse and base of operations until the quest Alduin's Wall. She has a secret room in the basement (revealed to you during the quest A Blade in the Dark) that contains another alchemy lab and an arcane enchanter.
[edit]
NPCs Living Here
* Leaves once Alduin's Wall is begun. Orgnar becomes innkeeper.
† Appears only if he was followed during Unbound.
[edit]
Related Quests
[edit]
Radiant Quests
[edit]
Standard Merchandise
This is the merchandise found in the inn's merchant chest. These items are only available if purchased from the merchant; they cannot be pickpocketed or stolen. They are restocked every two days.
All low- and medium-value items in the Inn can be freely taken after stage 10 of the quest A Blade in the Dark has been completed. This includes the items in Delphine's secret basement room.
Several containers in Sleeping Giant Inn are safe for long-term storage, in particular, several containers in Delphine's secret basement room that become available once A Blade in the Dark has been completed. All of the containers in the basement room except the barrel are safe for storage—namely two chests and three sacks. Therefore, the chest where your equipment is placed during Diplomatic Immunity is safe.
The bed in the right guest room is no longer owned after completing A Blade in the Dark
Even if Delphine gives up ownership to Orgnar, her bed cannot be slept on.
Some items placed inside the barrel next to the door to Delphine's room will be marked as owned, but will not be considered stolen if removed from the barrel.