Skyrim:Snapleg Cave
The UESPWiki – Your source for The Elder Scrolls since 1995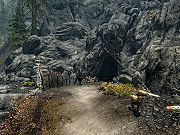 Snapleg Cave is a medium-sized cave carved into the side of a mountain. It is located to the far east of Ivarstead, northwest of Rift Watchtower and south-southeast of Darkwater Pass.
Upon entering, go down the path to find a few skeevers feasting on a dead deer. Continue through the cave to a small encampment occupied by hags and a frostbite spider. There is a chest underneath a table in the tent along with a few other items. To the left of the tent is a rock with a crate on top hidden behind some foliage; the crate contains a Staff of Paralysis, a potion, and minor loot.
Enter the cave to the right (south) to encounter another giant frostbite spider in a small sunlit alcove. There's also an enchanted pedestal that fires ice spikes at you. Remove the soul gem and proceed through the tunnel into a relatively large cavern infested with frostbite spiders. Continue straight ahead to find a dead bandit in front of a chest guarded by another giant frostbite spider. Continue to the next room; there is a chest hidden behind some webbing on the west side.
A single hag is at another encampment ahead, and a copy of the Alteration skill book Breathing Water is on a barrel in the tent. The room to the left (southwest) is the last occupied room of the cave: a hagraven and a hag are in tent, and a spriggan is trapped in a cage behind an apprentice lock. The spriggan will not turn hostile, even when attacked, if you free her, and makes a valuable ally against the enemies. There is an arcane enchanter next to the tent. Once the enemies are dispatched, the spriggan makes for the exit if she's still alive, but may get stuck on the taproot suspended by netting in the hallways. If she gets stuck, she may simply teleport out of the cave, or go further back and resume her course to a grove just outside Eldergleam Sanctuary. In the next and final room is a chest with moderate loot. Use the chain and head for the exit.