Skyrim:The Scorched Hammer
The UESPWiki – Your source for The Elder Scrolls since 1995
This article is being developed as part of the Skyrim Houses Redesign Project. If you see this tag it means the article can still be improved. Please see the project page for guidelines.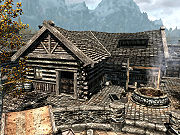 The Scorched Hammer is the home of Riften's blacksmith, Balimund. The forge and work area are located outside the building, facing onto Riften Grand Plaza. Balimund claims that his forge is unique because he fuels it with fire salts (although his supply is low). However, items created at his forge do not have any special properties.
He adopted Asbjorn Fire-Tamer from Grelod the Kind, and has been teaching him smithing. If anything happens to Balimund, Asbjorn will take over running the blacksmith's. Otherwise, Asbjorn spends most of his time inside the Scorched Hammer.
[edit]
NPCs Living Here
[edit]
Related Quests
NOTE:
Some radiant quests have a sizeable list of possible locations. These quests are not placed on individual place pages, and are instead listed at
radiant quest locations
.
[edit]
Standard Merchandise
This is the merchandise found in the blacksmith's merchant chest. These items are only available if purchased from the merchant; they cannot be pickpocketed or stolen. They are restocked every two days.
| Count | Item | Details |
| --- | --- | --- |
| 1 | Complete leveled set of heavy armor (unmatched, unenchanted; Ebony is best possible) | |
| 1 | Complete leveled set of light armor (unmatched, unenchanted; Glass is best possible) | |
| 1 | Complete leveled set of weapons (one of each type incl. bow except dagger; unenchanted; Ebony is best possible) | |
| 50 | Iron Arrows | |
| 10 | Iron Ingots | |
| 10 | Leathers | |
| 10 | Leather Strips | |
| ~2 | Leveled Armor (unenchanted) | Max 3 (3@75%) |
| ~4 | Leveled Arrows (batches of 15) | Max 5 (5@75%) |
| ~0 | Leveled Daggers (enchanted) | Max 2 (2@15%) |
| ~5 | Leveled Enchanted Armor | Max 6 (1@75% + 1@75% + 1@100% + 3@75%) |
| ~1 | Leveled Enchanted Jewelry | Max 1 (1@75%) |
| ~5 | Leveled Enchanted Weapons | Max 6 (1@75% + 1@75% + 1@100% + 3@75%) |
| ~9 | Leveled Ingots | Max 12 (12@75%) |
| ~8 | Leveled Ores/Charcoal | Max 10 (10@75%) |
| ~2 | Leveled Weapons (unenchanted) | Max 3 (3@75%) |
| 1 | Pickaxe | |
| ~1 | Special items (armor or weapons; 33% chance of being enchanted) | Max 4 (1@100% + 3@10%) |
| ~19 | Leather or Leather Strips | Max 25 (25@75%) |