Skyrim:Black-Briar Manor
The UESPWiki – Your source for The Elder Scrolls since 1995
This article is being developed as part of the Skyrim Houses Redesign Project. If you see this tag it means the article can still be improved. Please see the project page for guidelines.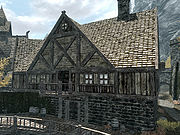 Black-Briar Manor is the Black-Briars' residence in Riften.
It is the home of Maven Black-Briar, her son Hemming Black-Briar, and her grand-daughter Ingun Black-Briar. Maven's housecarl, Maul, resides here as well. Ingun spends most of her day in Elgrim's Elixirs, and returns at night to sleep. This is an easy target for thieves as it is likely to be unoccupied most of the day.
If the Imperial Legion takes over the Rift, Maven, Hemming and Maul will relocate to Mistveil Keep.
[edit]
NPCs Living Here
* These NPCs relocate to Mistveil Keep if the Imperial Legion takes over the Rift.
[edit]
Related Quests
In the basement, there is a door protected by a Master lock. Inside are the remains of a Black Sacrament Ritual and a note to the Dark Brotherhood written by Maven Black-Briar. The human flesh and human heart respawn.
There are two "Protected" shadowmarks around the manor, one by an entrance and one by a gate in front of an entrance. Maven Black-Briar has strong ties with the Thieves Guild.