Skyrim:Erik the Slayer
The UESPWiki – Your source for The Elder Scrolls since 1995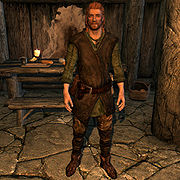 Erik is a Nord barbarian living in Rorikstead. He is the son of Mralki, innkeeper of the town's Frostfruit Inn. Erik yearns to go outside the town and taste adventure. However Mralki, a caring and overprotective father, won't let his son do anything even remotely dangerous. Erik asks you to convince his father to change his mind. His name will be changed to Erik the Slayer. When asked about the name he says his father thinks he should have a name that is more true to him. Furthermore, he adds that no one is going to want to hire "Erik Green-thumb or Erik Hoe-Pusher".
After completing his quest it is possible to hire Erik the Slayer for 500 gold when returning at a later date. Erik is a melee/bow class that favors two-handed weapons and light armor (he has semi-decent Block skill). He has a cheerful disposition and comments about how little regret he has about becoming an adventurer.
[edit]
Related Quests
He is based on Erik West, who was known as "Immok the Slayer" on the forums and who died of cancer in May 2011.
Before changing his name to Erik the Slayer, his RefID is 000350B8 and his BaseID is 000350A7.
He should put on his new armor immediately after your fast travel away and back. If that doesn't happen, try entering setstage RoriksteadFreeform 20 and talking to Erik again. Then move away and come back.
He is one of the two hirelings that cannot be married, the other being Teldryn Sero.DB
Although his default gear is governed by the Heavy Armor skill, Erik is actually more proficient in light armor.
Erik may occasionally be found beside the road close to Gjukar's Monument for unknown reasons.

Hiring and dismissing Erik on these occasions will cause him to return to Rorikstead.

When accompanying you as a follower, Erik may be inexplicably attacked by members of the Companions if visiting Jorrvaskr in Whiterun.
The dialogue option to become a stewardHF may never appear.
If made a stewardHF, the steward dialogue options may not appear.

Leaving the zone for 24 in-game hours and returning may resolve this.