Skyrim:Sibbi Black-Briar
The UESPWiki – Your source for The Elder Scrolls since 1995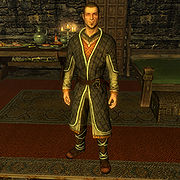 Sibbi Black-Briar is a Nord thief and a member of the Black-Briar family; his father is Hemming Black-Briar, and his sister is Ingun. Maven Black-Briar is his grandmother. He was placed in prison after killing the brother of Svidi, his former fiancee. He asks you to locate Svidi. His mother had him thrown in prison to show him that his social status does not make him exempt from paying the price for his actions, as revealed in a note.
As part of the quest Promises to Keep, you must visit Sibbi in the Riften Jail to learn more about the deal between him and Louis Letrush. At that time, it is also possible to (via a persuade check) convince him to provide you with a key to a stash of gold located in the Black-Briar Lodge.
Sibbi wears a set of fine clothes and a pair of fine boots. He is equipped with a leveled dagger which can be up to elven quality. He carries a selection of upper-class loot and gold.
[edit]
Related Quests
His stash key opens a strongbox in the Black-Briar Lodge, while his chest key opens a chest in the basement of the Black-Briar Meadery.
If he is sleeping and you cannot talk to him, cast a summon in his cell and he will wake.
Sibbi mentions in dialogue that he is to be imprisoned for eight months, however when eight months of game-time has passed he still remains in his cell complaining that he has eight months left of his sentence.
Sometimes when you enter the cell, Sibbi may be sleeping on the inside side of his bed. When he wakes, he will be trapped between his bed and the wall. If you exit the prison and come back after a while, Sibbi will be sleeping on a bed in the next cell instead of his.

This bug is fixed by version 1.1 of the Unofficial Skyrim Patch.
If you wake him up when he is in the next cell, he will wake up and unlock the cell door and walk back to his original cell. Since the original cell door is locked, however, he will be stuck outside.

Some dialogue incorrectly identifies Maven as his mother, rather than his grandmother.