Skyrim:The Ragged Flagon - Cistern
The UESPWiki – Your source for The Elder Scrolls since 1995
This article is being developed as part of the Skyrim Houses Redesign Project. If you see this tag it means the article can still be improved. Please see the project page for guidelines.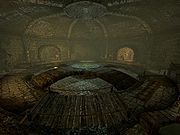 The Ragged Flagon - Cistern is the Thieves Guild's headquarters in Riften. It is connected to The Ragged Flagon, but has its own secret entrance in Riften's graveyard, which can be accessed once you join the Thieves Guild.
If you enter the Ragged Flagon from the Ratway, a door on the far side of the room leads to another section of the sewer network: the Ratway Vaults. If you face this door, a passage to your right will lead you to the Cistern Zone.
As the Thieves Guild reputation quests from Delvin Mallory are completed, upgrades to the Cistern are added. These upgrades include Thieves Guild banners, tables of ingredients and food, carpets, and, once the final reputation quest has been completed, an upgrade to all beds within the Cistern.
[edit]
NPCs Living Here
The Ragged Flagon - Cistern
[edit]
Related Quests
[edit]
Notable Items
A number of Guild Chests can be opened and looted without repercussions once you join the Thieves Guild.
A training room that contains a series of locked chests of different difficulty level.
A copy of Advances in Lockpicking can be found on a barrel.
A few copies of the book Shadowmarks, which explains the meaning of the symbols scattered across Skyrim.
A full set of Thieves Guild Armor in the training room, plus additional boots, gloves, and a hood next to your bed (as of Patch 1.4).