Skyrim:Courier
The UESPWiki – Your source for The Elder Scrolls since 1995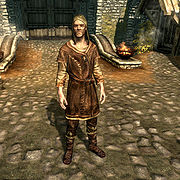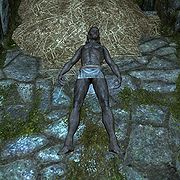 Couriers are generic NPCs who will occasionally approach you to deliver messages. These messages sometimes serve to initiate a quest (miscellaneous or regular) and sometimes play a role in advancing a currently activated quest forward. A courier can appear anywhere in the province of Skyrim, as well as on Solstheim.
Using a dragon shout in public view can increase the probability of a contact with a courier; after doing so, he will usually appear some time later with a letter that activates a miscellaneous quest directing you to a location where they may find an undiscovered word wall. He will also occasionally bring other kinds of messages, such as a letter of inheritance.
When randomly encountered, perhaps walking along a road, you can pickpocket the courier for a courier's letter. These refer to semi-random locations and have no quest objectives connected to them. They will update your map if you have not been to the location mentioned.
[edit]
Related Quests
You can read the note while in his inventory, therefore avoiding any risk of being caught.
After Hearthfire is installed, you may receive a letter from a jarl regarding a piece of land for sale. This letter is not necessary to purchase the related property.
After Hearthfire is installed, you may receive a letter from Constance Michel in Riften about adoption. This letter is not required to adopt homeless orphans.
The courier occasionally arrives wearing little or no clothes, which he never replaces. Each subsequent meeting with him will either see him wearing the same or even less clothing.

This bug is fixed by version 1.9 of the Official Skyrim Patch.
This can sometimes be fixed by reverse-pickpocketing new armor or clothes onto him.