Skyrim:Karinda
The UESPWiki – Your source for The Elder Scrolls since 1995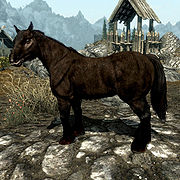 Karinda is Dagny's pet horse, although he does not appear in-game without the use of console commands. Karinda is the same color as the Whiterun Stables horse the player can buy, but has no saddle. Much like Frost, he will stay in position if you mount another horse.
Karinda was intended to be killed by Dagny's brother Frothar during The Whispering Door, as a result of falling under the influence of Mephala. However, all portions of the quest involving Balgruuf the Greater's children turning violent were removed from the final release of the game.
Karinda is flagged as invulnerable, and will have infinite stamina and be impervious to damage if spawned.
Type player.placeatme 5f865 1 into the console to add him to your game.