Oblivion:Weatherleah
The UESPWiki – Your source for The Elder Scrolls since 1995
This page or section is incomplete. You can help by adding to it.
Needs details of contents pre- and post-quest; vegetable garden too, maybe?
For more information, see the help files, the style guide, and this article's talk page.
# of Zones
2
Occupants
Ogres
Console Location Code(s)
WeatherleahInterior
Region
Great Forest
Location
Between Skingrad and Chorrol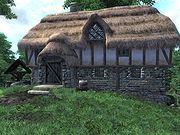 Weatherleah is a house between Skingrad and Chorrol (quest-related). The one-time residence of the Jemane family, it was overrun by ogres years ago. Initially, the house is in very poor condition, with broken and overturned furniture, bones and other objects littering the floor. Several skeletons can be found in the attic and a burnt corpse in the fireplace. Once the brothers move in, however, they clear it, remove the bodies and put up some tapestries; effectively restoring Weatherleah to its former glory.
[edit]
Related Quests
Legacy Lost: Help long-lost twins recover their childhood home.
Weatherleah is restored to its former glory when you receive the stage 20 quest update during Sins of the Father, e.g. when you approach Redguard Valley Cave. By rushing into the cave, it is possible to avoid the quest update, which will trigger a bug and make Weatherleah ruined for the rest of the game.