Skyrim:Horik Halfhand
The UESPWiki – Your source for The Elder Scrolls since 1995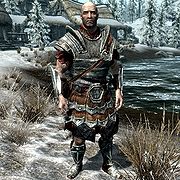 Horik Halfhand, a Nord warrior, is a retired Legionnaire, and is undyingly loyal to his former commander, Brina Merilis, even after retirement. He proves his support for the Empire by saying "I've been in the Legion all my life. I'm content to serve."
He dons his old Legion armor again in order to openly antagonize Skald, the Stormcloak-allied Jarl of the Pale. Should Brina be appointed as Jarl of the Pale through the course of the quest Reunification of Skyrim or Season Unending, Horik becomes her housecarl and he will take his new position very seriously with the words "My duty is to guard Brina Merilis."
Horik's backstory is particularly shallow. When entering Dawnstar for the first time, Brina asks him about his past. He says that there is nothing to tell; he grew up on a farm, was orphaned at a young age, joined the Legion when he came of age, and was with her ever since.