Skyrim:Brunwulf Free-Winter
The UESPWiki – Your source for The Elder Scrolls since 1995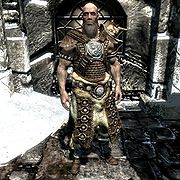 Brunwulf Free-Winter is a Nord warrior who lives on the east side of Windhelm and wears a rare scaled horn armor.
He is known for standing up for the Dunmer and Argonians in the city and thus openly goes against the opinions of his fellow Nords Rolff Stone-Fist and Angrenor Once-Honored. Brunwulf is made Jarl of Windhelm if Ulfric Stormcloak is killed by the Imperial Legion, and enacts a more tolerant administration of the hold.
According to townsfolk and Brunwulf himself, he is a veteran of the Great War against the Aldmeri Dominion's invasion of the empire of Tamriel. However, despite being recognized a war hero by many, Brunwulf explains he is not proud of this title and claims that the war had not given any glory to anyone.
When asked, he will give his rather bleak opinion about the Great War and respond with "The "Great War"- there was nothing great about it. Thousands died on both sides and where did we end up? Did we really save the Empire or did we just plant the seeds for Ulfric's uprising and another war?" He will talk about the reality of war even further when he says that "There's no glory in war. It's just something they tell soldiers so they'll risk their lives." and "They call me a war hero. I'm no hero, I'm just a soldier who didn't want to die."
He also despises Ulfric Stormcloak and will make no secret of it when he says that "Don't let Ulfric or some of these other short-sighted Nords bother you. Most of us are happy to welcome newcomers." and "The Dark Elves live in a run-down slum called the Gray Quarter. Ulfric's content to keep it that way." When asked about the Stormcloaks he will respond with "Seems to me they're a bunch of narrow-minded bigots, just like you."
He will ask about your opinions on outsiders in Skyrim by asking you "You one of those "Skyrim for the Nords" types?" and if you tell him that all people should be welcome in Skyrim you may be surprised to find that he remarks "And you're right, at least as far as I'm concerned. Don't let Ulfric or some of these other short-sighted Nords bother you. Most of us are happy to welcome newcomers."
However, if you tell him that only Nords should be allowed in Skyrim he will be disgusted and tell you that "That's just what Ulfric wants you to think. If that's what you really believe, then you're a fool. Never had much patience for fools, myself." He will then refer to the player as a bigoted Nord in the future, regardless of the player's actual race. It is also interesting to note that despite his seemingly kind disposition towards Argonians, he will occasionally use the racial slur "lizard" when an Argonian player exhausts his normal dialogue. However, this is purely inherent to his voice type.
A Dream of Sovngarde is written by Skardan Free-Winter. There is no known connection besides a shared surname.
[edit]
Related Quests
NOTE:
Some radiant quests have a nearly unlimited list of possible quest targets, or can be randomly initiated by nearly any NPC in the game. These quests are not placed on individual NPC pages, and are instead listed at
radiant quest NPCs
.
After finishing the quest "Battle for Windhelm" for the Imperials, Brunwulf Free-Winter sometimes won't appear in the Palace of the Kings. All Stormcloak-supporting Jarls and their housecarls will be there sitting at a table, but without Brunwulf in the Palace. Without him, you are unable to purchase Hjerim or become Thane of Eastmarch if you have not already. ?

To fix this, use the Unrelenting Force shout on everyone at the dinner table. This will give you a bounty in each of the holds that the Jarls are from. Travel out of Windhelm and return.