Skyrim:The White Hall
The UESPWiki – Your source for The Elder Scrolls since 1995
This article is being developed as part of the Skyrim Houses Redesign Project. If you see this tag it means the article can still be improved. Please see the project page for guidelines.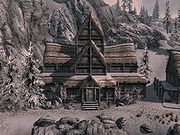 The White Hall is a large two-story structure that sits on a hillside overlooking most of Dawnstar. It is the seat of power for the Jarl of the Pale.
[edit]
People
[edit]
Related Quests
There are three giant's toes in this building, which respawn every two in-game weeks. One is in a bedroom on the second floor to the left of the entrance, and two more in the shop underneath that same bedroom. These are owned by someone else, so taking them is considered stealing.
On a table upstairs in the east room you can find a copy of the Destruction skill book The Art of War Magic.
Downstairs in the shop, there is a copy of the Enchanting skill book Catalogue of Weapon Enchantments tucked between two barrels in the corner.