Skyrim:Wylandriah
The UESPWiki – Your source for The Elder Scrolls since 1995
Wylandriah
(RefID: 00019DF0)
Home City
Riften
Location
Mistveil Keep
Race
Bosmer
Gender
Female
Level
15
Class
Fire/Frost/Shock Mage
RefID
00019DF0
BaseID
00019DEF
Merchant
Gold
500 (+500 Investor; +1000 Master Trader)
Sells
See Standard Merchandise
Buys
Spells (Books, Clothing, Daedric Artifacts, Jewelry, Scrolls, Soul Gems, Spell Tomes, Staves)
Other Information
Health
167
Magicka
143
Stamina
50
Primary Skills
Destruction, Restoration, Alteration, Archery, Conjuration, Sneak
Class Details
CombatMageElemental
Moral.
No Crime
Aggress.
Unaggressive
Faction(s)
CrimeFactionRift; During sieges, staff and family hide.; JobCourtWizardFaction; JobMerchantFaction; JobSpellFaction; Mistveil Keep Faction; Riften Wylandriah Vendor Services; TownRiftenFaction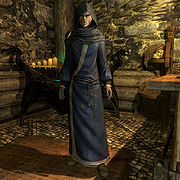 Wylandriah is the court wizard of Riften. She lives in Mistveil Keep and provides shop services for a variety of magical implements. She is quite eccentric, but obviously of keen intellect. Unfortunately she can't hold a train of thought and frequently forgets things.
Wylandriah wears blue mage robes and a pair of boots.
[edit]
Related Quests
NOTE:
Some radiant quests have a nearly unlimited list of possible quest targets, or can be randomly initiated by nearly any NPC in the game. These quests are not placed on individual NPC pages, and are instead listed at
radiant quest NPCs
.
[edit]
Displayed Merchandise
The following items are sitting out in the store, for example on the store counters. They can be purchased from the merchant, or else can be stolen. Other items may also be present in the store, but those other items are not available for purchase. They respawn after ten days.
Ingredients (req. Merchant perk): 1 Fly Amanita, 3 Frost Salts, 1 Giant Lichen, 1 Lavender, 1 Nightshade, 2 Nordic Barnacle, 2 Salt Pile, 4 Scaly Pholiota, 1 Spider Egg, 1 Spriggan Sap, 1 Troll Fat, 1 Vampire Dust
Potions (req. Merchant perk): 1 Potion of Healing, 1 Potion of Minor Healing, 1 Potion of Plentiful Magicka, 1 Potion of Stamina, 1 Solution of Strength
[edit]
Standard Merchandise
This is the merchandise found in Wylandriah's merchant chest. These items are only available if purchased from the merchant; they cannot be pickpocketed or stolen. They are restocked every two days.
| Count | Item | Details |
| --- | --- | --- |
| 1 | Complete set of Novice Spell Tomes | Best-quality |
| 1 | Complete set of Apprentice Spell Tomes | Best-quality |
| 1 | Complete set of Adept Alteration Spell Tomes | Only if PC's skill level is high enough |
| ~4 | Leveled Robes (enchanted) | Max 5 (5@75%) |
| ~9 | Leveled Scrolls | Max 12 (12@75%) |
| ~15 | Leveled Soul Gems (empty and full) | Max 20 (20@75%) |
If you pick up any of the items for the Hunt and Gather quest before speaking to her, she may not offer you the favor quest and it will not be tracked. However, she will still remind you where to find the items and once you have collected them all, the quest will appear in your log and you can turn it in for the reward.