Skyrim:Salmon Roe
The UESPWiki – Your source for The Elder Scrolls since 1995

Salmon Roe


(xx003545)

5
0.2
Alchemy Effects
1st
 Restore Stamina (0.4×)
2nd
 Waterbreathing (15.4×)
3rd
 Fortify Magicka (12.5×, 1.05×)
4th
 Regenerate Magicka
Sources
# Samples
3
Merchant Avail.
None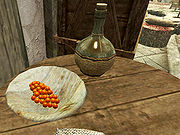 Salmon Roe can be found in interior locations such as a player-built home and can be harvested from jumping salmon in streams.
Salmon in a lake will not normally yield roe, nor will salmon hanging from hanging racks in interior locations.
Killing normal salmon (non-jumping) in a body of water, then harvesting the body, has shown to yield roe, this is not a glitch, but a new feature added with Hearthfire. Unrelenting Force can be very useful if you want to harvest roe in this fashion.
When combined with Garlic, Chicken's Egg, or Nordic Barnacle at an alchemy lab, you can make the most valuable potion in the game, or you can increase the value a little more by adding Histcarp which would add fortify magicka and restore stamina to an already valuable potion.
Salmon roe can be harvested from the waterfalls of White River (which runs from Whiterun to Windhelm) but not from the free flowing waters, while it is possible to harvest salmon roe in the waters and waterfalls of Karth River (which runs from east of Markarth to Solitude) and the calm waters of northern Skyrim.
The Fortify Magicka duration is only 5 seconds, while the Waterbreathing effect is 60 seconds. These values appear to have been swapped with one another, as Fortify Magicka is normally 60 seconds, while Waterbreathing is normally 5.
Killing non-jumping salmon for their roe seems to only work intermittently. Catching a jumping salmon beforehand may be a factor.