Morrowind:Hla Oad
The UESPWiki – Your source for The Elder Scrolls since 1995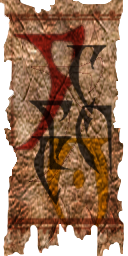 Hla Oad is a tiny fishing village at the southern end of the Bitter Coast region, southwest of Balmora on Vvardenfell. It offers few services, and is rumored to be a major stopover for smugglers.
[edit]
Main Square
There's not much available in the way of services in this small port. A few desolate fisher huts and homes of paupers are centered around a square. Fatleg's Drop Off in town is the location of the local publican, Trasteve, who has a limited supply of weapons, armor, arrows, potions and various sundries for trade.
[edit]
The Hideout
Accessed through a trapdoor from Fatleg's, the Camonna Tong maintains a large smugglers' hideout, right under Hla Oad. You might not be specifically welcome, but they do offer various training and Thieves Tools. A Khajiit Slave carries a special load. Dalam Gavyn offers smith services. Llemisa Marys has a supply of lockpicks and probes for sale, and Perien Aurelie is a pawnbroker.
[edit]
Getting there & around
Transportation from Hla Oad to other locations in Vvardenfell is handled by Baleni Salavel, located at the local docks on her transport ship, Harpy. An uneven path leads north through the swamps to Gnaar Mok. A better path leads east to the Odai River and on to Balmora.
The smuggler ship Grytewake is located due southwest.
In the water under the house of Murudius Flaeus is a hidden chest.
[edit]
Places of Interest around Hla Oad
[edit]
Quests
[edit]
House Hlaalu
[edit]
Imperial Cult
Restless Spirit: Calm the restless spirit of murdered Julielle Aumine who is haunting Okur in Hla Oad.
[edit]
Thieves Guild
[edit]
Miscellaneous
[edit]
People
Name
Race
Class
Faction
Level
Health
Magicka
Alarm
Fight
Location
Notes
Baleni Salavel
Dunmer
Shipmaster
4
49
106
0
30
Docks
Transport
Dalam Gavyn
Dunmer
Smith
Camonna Tong

(Tough)

9
116
92
100
30
Fatleg's Drop Off
Blacksmith; Merchant
Fadile Balvel
Dunmer
Commoner
10
93
100
0
30
[-6,-5]
Although this character's name is officially "Fadile", all other references to her use "Fadila" (including her editor ID and her house name)
Falvis Tunel
Dunmer
Drillmaster
9
94
112
0
30
Fatleg's Drop Off
Glonagoth
Bosmer
Herder
3
48
84
0
30
[-6,-5]
Hrondar Highlander
Nord
Smuggler
13
130
80
0
30
Fadila Balvel's House
Llemisa Marys
Dunmer
Thief Service
Camonna Tong

(Tough)

9
76
106
100
30
Fatleg's Drop Off
Trainer; Merchant
Murudius Flaeus
Imperial
Pauper
2
45
82
0
30
Murudius Flaeus' House
Okur
Argonian
Commoner
2
46
102
0
30
Okur's House
Pallia Ceno
Imperial
Agent
Imperial Cult

(Novice)

9
81
98
0
30
[-6,-5]
Trainer
Perien Aurelie
Breton
Pawnbroker
7
66
140
100
30
Fatleg's Drop Off
Merchant
Ra'Zhid
Khajiit
Smuggler
7
74
90
90
50
Fatleg's Drop Off
Rabinna
Khajiit
Slave
4
60
84
0
10
Fatleg's Drop Off
Relam Arinith
Dunmer
Smuggler
Camonna Tong

(Brute)

10
100
94
0
30
Fatleg's Drop Off
Relien Rirne
Breton
Commoner
1
40
100
0
30
[-6,-5]
Shurkul gro-Sharga
Orc
Pauper
1
47
60
0
30
Shurkul gro-Sharga's House
Trasteve
Redguard
Trader Service
9
104
86
100
30
Fatleg's Drop Off
Merchant