Skyrim:Storm Atronach
The UESPWiki – Your source for The Elder Scrolls since 1995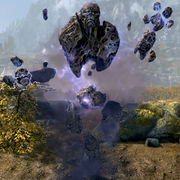 Storm Atronachs are elemental shock Daedra. Their natural manifestation is as a cluster of rocks quickly revolving around an electrified center. Storm Atronachs are generally encountered as hostile enemies (usually summoned by an opposing mage), but the player can also summon them to aid in combat.
All Storm Atronachs are members of their own race (FormID 000131f7), which has the following traits:
Storm Atronach abilities (FormID 0x0002f3b7): For <dur> seconds, opponents in melee range take 10 points shock damage and magicka damage per second. You may encounter Potent Storm Atronachs at higher levels.
Immune to Paralysis
Cannot be Reanimated
Height: 1
Weight: 1
[edit]
Storm Thrall
Storm Thralls are a variant of the Storm Atronach. As members of the same race, they therefore share all of their characteristic racial traits.
One notable difference between Thralls and Atronachs is that Thralls have a special fortified healing ability:
Unique Storm Thralls: Pelagius's Storm Thrall
Storm Thralls have 50 less health points.